Charleston, SC RV Park Review – Lake Aire RV Park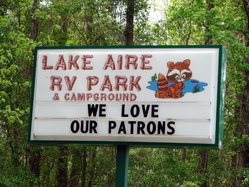 We spent some of the winter months in the Myrtle Beach area. We decided to take a few days for a visit to Charleston, SC before heading home to New England. Our first choice in Charleston area RV parks was full. Based on what we read online, and its proximity to Charleston, Lake Aire RV Park was our second choice. Hopefully, this RV park review will give you at least an idea of what to expect should you stay here.
Charleston was originally formed as Charles Town in the late sixteen hundreds. Its famed Fort Sumter was the site of the opening shots of the Civil War. There are so many attractions, both historical and modern, military and otherwise.
Unfortunately, this trip we only had time for a small sampling. We took a boat out to Fort Sumter and toured Boone Hall Plantation. We strolled through the historic Charleston City Market. Then we got a taste of the city's history, architecture, and culture on a horse-drawn carriage tour.
Where is it? —
The park is a dozen or so miles west of downtown Charleston, off of Highway 17 South.
Lake Aire RV Park & Campground
4375 Highway 162
Hollywood, SC 29449
www.lakeairerv.com/
(843) 571-1271
Getting There —
Coming from the Myrtle Beach, SC area, we took Highway 17 South. We were towing our fifth-wheel, so just outside of Charleston we took a right onto Route 526 to loop around the heart of the city. On the other side of Charleston, we got back onto 17 South roughly another 6 miles. Then we turned left off of 17 onto Highway 162, passing a small gas station on the right, and crossing some railroad tracks. The park entrance is less than a quarter-mile farther, on the left.
Coming from farther south, using Highway 17 North, Route 162 is approximately 45 miles from US I-95. After passing the junction of Highway 165, Highway 162 is about another 6 or seven miles, on the right.
Nearby Attractions –
There's so much to see and do in the Charleston area. I'll list just a few:
The Charleston Visitors Center, on Meeting St. in downtown Charleston – lots of great information and extremely helpful people
Fort Sumter National Monument
Charles Towne Landing State Historic Site
Horse-Drawn Carriage Tours (we used Old South Carriage Co.), boat tours, walking tours
Charleston City Market
Patriots Point Naval & Maritime Museum
Plantation tours – Boone Hall (we enjoyed this), Middleton Place, Magnolia Plantation & Gardens
Tons of museums, historic sites, places to eat, entertainment of all sorts
The Sites —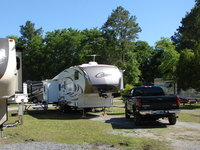 Most of the sites are pull-throughs, although there are some back-ins and quite a few tent sites. All the RV sites were gravel with some crush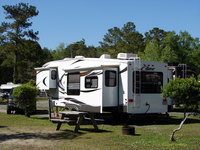 ed rock, and sparse grass between sites. Our site was was pretty level and others appeared to be the same. The interior roads are a bit narrow, especially if you're trying to maneuver a larger RV, but they're manageable. We had a 50 amp site and the power was reliable. Water pressure was ample and consistent. While the sites are big enough, a bit more space between them would suit us better.
Amenities —
Lake Aire has most of the normal RV park amenities:





Laundry
Bathrooms with showers
Wireless Internet — like a lot of parks it worked but was none too fast
Private fishing lake (catch & release)
A small swimming pool
Pavilion with tables for group gatherings
Playground
Dump station
Rates —
We thought the rates were reasonable. 50 amp, full hook-up sites (like ours) are $42.00/night. Similar 30 amp sites are $38.50. Water & electric and tent sites range from $36.00 down to $19.00/night.
We got a 15% Escapees Club discount, better than the 10% Good Sam Club (to which we also belong) discount. Note that there is an 11.5% tax on top of the quoted rates.
The People —
Yeah, I know…ducks aren't people, but this guy became our buddy. He showed up about every day and hung out under our picnic table. Guess he liked the snacks! We'd never seen this type of duck before, but Google told us it is a Muscovy duck.
We dealt with a couple of different humans in the office. They were friendly, polite, and helpful.
What We Liked Most —
We were in the "front" part of the park, near the lake. It was neat, clean, and quite pretty there.
The laundry was a fairly short walk from our site and while small, it was pretty clean and got the job done.
We used the bathroom in our fifth wheel, but the park's facilities, although showing their age, appeared clean.
Good food markets, a Walmart, and other stores were only a few minutes away.
When we had some serious trouble with our tow vehicle, the park extended our stay a couple of times while we got things taken care of.
The park is reasonably close to Charleston's attractions.
What We Liked Least —
There's a very active and noisy train track close to the park. It didn't bother us all that much, but was still a nuisance when trying to get to sleep at night.
When it rained, the site got quite muddy and it was hard not to track it into the rig.
Some RV parks require their seasonal and longer term residents to keep their sites clean and neat. Not so much here. Parts of extended-stay areas of park were kind of junky looking.
Lake Aire RV Park has a very minimal camp store as part of the office. They do sell ice and propane and a few other items, but its a good thing stores aren't too far away.
Conclusions —
I've read glowing reviews of this park, and some terrible ones. Our experience here was somewhere in the middle. It was fine, but not outstanding. Our RV park reviews and opinions are, of course, based on our own particular wants, needs, and expectations. Lake Aire is certainly a handy place to stay while visiting the Charleston area. Next time we visit, we'll likely try another nearby park to see how it compares. All in all though, we'd not hesitate to stay again at Lake Aire RV Park.