Use Your Noodle 3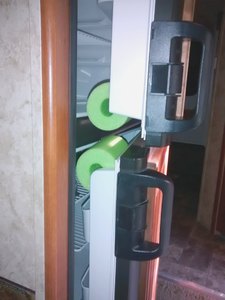 A quick tip to help keep your RV refrigerator fresh smelling over the winter months. We all turn off, empty, and clean our RV refrigerator and freezer as part of the winterizing or storage-prep process. Most of you also know that it's a good idea to leave your RV's refrigerator and freezer doors open a bit while it's not in use. This just allows air flow and helps to prevent any musty smell or condensation inside the refer.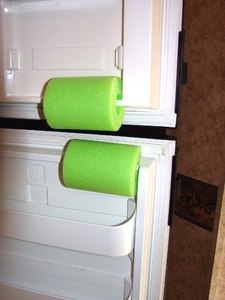 How do you keep the doors ajar? We used to use a couple of the spring bars you put across the shelves when traveling. Just lay one on a shelf and adjust the length so it sticks out far enough to hold the door open. We've seen someone use a folded kitchen towel, and you can buy "door stays" at RV supply stores.
After using these pool toys to help us secure our dinette chairs (post is here), and to make protective pads for an RV cover (post is here), we said "Hey, let's use our noodle – again!" We cut a couple of 4-5 inch lengths of left over noodle and slit one side. Then we slipped them over a couple of convenient protrusions on the inside of the doors. Bingo! Easy, lightweight, and reusable.