Digby, Nova Scotia Campground Review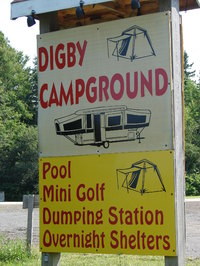 Digby,Nova Scotia is a picturesque little seaside community noted for its large scallop fishing fleet. Back in the 1800's, Digby had quite a shipping fleet as well. Interestingly, it was one of these ships that, in 1872, discovered the famous ship Mary Celeste afloat, but with no one aboard.
Digby Campground is very small, with under 50 sites. All are back-ins. The campground is on the side of a hill and the rows of sites are terraced. Some of them, particularly in the upper-most row where we were, are none too big for most RVs. We had a full hook-up site and everything worked just fine. Once we got positioned in the site, we were quite comfortable, although space for our truck was pretty tight.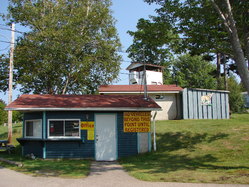 Where Is It? —
Digby is on the southwestern coast of Nova Scotia in the Bay of Fundy & Annapolis Valley region.
Digby Campground
230 Victoria Street
Digby, NS
www.angelfire.com/biz2/DigbyCamping
(902) 245-1985
Getting There —
We drove from Truro, in central Nova Scotia. We decided to take the best roads as opposed to the shortest route. We took Route 102 south out of Truro, then tuned west on Route 101 just north of Halifax. We followed 101 all the way over to the southwestern coast of Nova Scotia, getting off at Exit 26.
There, we turned north on Route 303, past McDonalds and Tim Hortons. We followed that until we turned left on Victoria Street (Kentucky Fried Chicken at the corner). Follow Victoria Street past the intersection of Route 217 and down a bit of a hill. Digby Campground is at the bottom of the hill, on the right.
Nearby Attractions —
The quaint town of Digby, with its fishing fleet, shops, restaurants, museums. We greatly enjoyed simply strolling along Water St. right on the shore.
Prim Point Lighthouse – a short drive out of Digby, a pretty place with a nice picnic area and a great view of the shoreline and the Bay of Fundy.
A nice selection of whale watch outfits out on Digby Neck, Long Island and Brier Island. We went with Pirate's Cove Whale & Seabird Cruises on Long Island, had a good time, and saw several whales.
Annapolis Royal is only about a half hour's drive from Digby. While there we explored Fort Anne, poked around a farmers market. After leaving Annapolis Royal, we visited the reconstructed early 17th century Port Royal Habitation.
 The Sites —
As previously noted, the campground is on the side of a hill and the rows of sites are terraced. All of the sites are back-ins. We were on the upper tier, in the back, and our site was none too big for our 30′ rig and 20′ tow vehicle. We had to park the truck crossways in front of the trailer and, even then, it still stuck into the next site a bit.
The site was fairly level and all of the hook-ups worked fine.
 Amenities —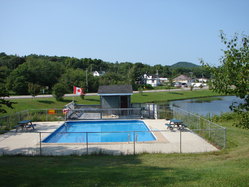 30 amp. power (no 50 amp.)
A small pool
A small miniature golf course – although not too well maintained when we were there
No cable TV and not much over-the-air reception
Free WiFi but, like many campgrounds, so-so signal strength and not much bandwidth.
Small laundry facilities, bathrooms and pay showers
The Rates —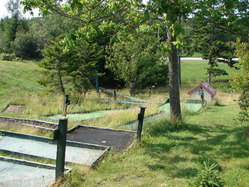 We paid $35.00 (Canadian) per night, plus $5.25 per night tax, for a total of $40.25 per night.
The People —
The owners live on site, and are super nice people. They were very relaxed and friendly and as helpful as could be. They manage and care for the campground themselves. We didn't see any other employees.
What We Liked Least —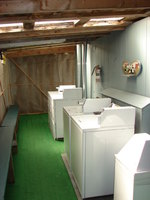 The site was somewhat small for our rig and tow vehicle
No ice available at the campground – their chest freezer had quit at some point and had not been replaced
No camp store – although it's a pretty short drive to a Walmart and a couple of large food markets
Deb said she was glad we have our own bathroom after seeing all of the cobwebs and the many spiders on patrol in the laundry and bathroom/shower areas.
No cable TV
WiFi that, at least for us, was so slow that we pretty much gave up on it (no, we weren't trying to stream video or music)
 What We Liked Most —
The owners' friendly and helpful attitudes – once, when we needed ice, the owner's wife gave us some out of her home freezer. They were great in helping us make reservations on a good whale-watch cruise.
While the campground is small, it's quiet and very pretty.
There is a nice view out over the water.
It's quite close to downtown Digby, with a pretty walking trail from the campground into town.
It is also handy to several area attractions we wanted to visit.
 Conclusions —
Our RV park reviews are based on our particular likes and dislikes. We hope you'll find some helpful information here.
We were kind of "on the fence" about this campground. We agreed that the pros definitely outweighed the cons, so we gave it 3½ out of 5 stars. Even without some of the amenities of larger, fancier parks, the people and the location made the difference for us. If we're in Digby again, we will stay here.